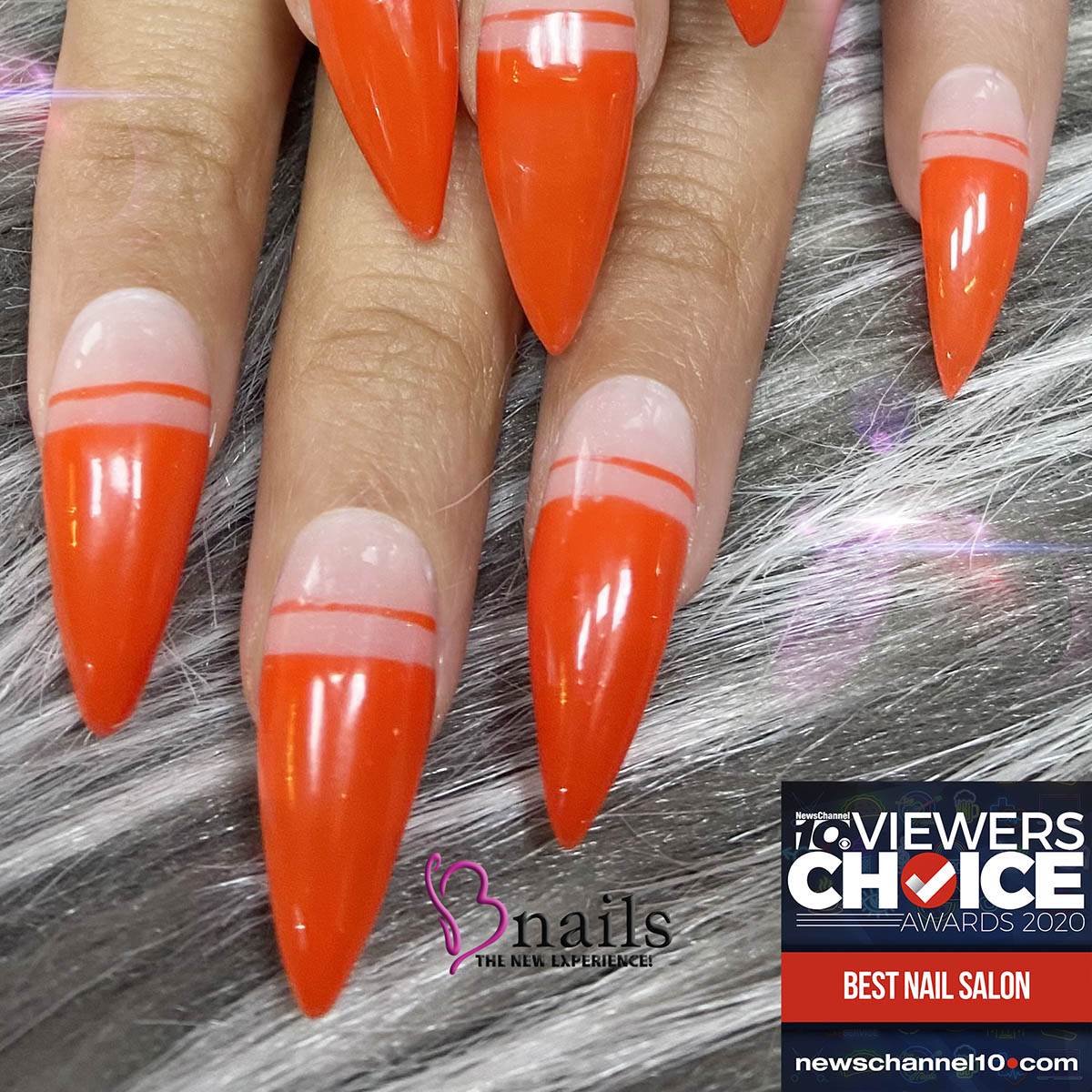 HOW MUCH DOES IT COST FOR A GIRL TO GET HER NAILS DONE?
admin
Posted January 11 2023
People of various ages are getting into nail art to express themselves. With so many options, manicure salon prices might need to be clarified. Many people who like to express themselves via their nails choose nail art despite its expensive cost.
In 2023, our salon pricing for normal, premium, gel, and acrylic nails is here:
NAIL ART PRICES
Ø Pedicures: $30-$65
Ø Herbal spa pedicure: $43-$55
Ø Acrylic nail: $35-$40
Ø Gel nail: $35-$40
Ø Dip nail: $40-$50
Ø Polygel nail: $45-$50
Ø Manicure: $25
WHAT YOU SHOULD KNOW BEFORE GETTING YOUR NAILS DONE
Nail care is complicated. "How much does it cost to get my nails done?" It is as crucial as choosing the color and design. The nail technician, artist, and design intricacy determine the pricing. In 2023, nail salons will provide these services:
01. PEDICURES
Manicures and pedicures at BNails are the epitomai of chic and high-end beauty care. We know that most successful women nowadays are so busy with their careers that they can't take the time to treat themselves to a manicure or facial. We've provided a variety of great manicure and pedicure services for women to enjoy. Naturally, males are just as welcome to indulge in our nail cures as women. Learn About Our Superb Pedicure Deals! Ingrown toenail removal is a standard part of every pedicure. All pedicures will be handled in a sanitary manner by our trained staff of nail technicians. We guarantee your ease of mind and aid in delivering gorgeous, pain-free fingernails and toenails you'll like.
02. HERBAL SPA PEDICURE
To meet the demands of its female customers, Bnails has designed a series of exceptional beauty care and relaxation packages. Our herbal treatments are derived from nature and have many beneficial effects, from enhancing skin health to stimulating the senses. Please find out about our relaxing and rejuvenating pedicure packages, perfect for satisfying your desire for a more attractive appearance.
03. ACRYLIC NAIL
Superior acrylic nail art. When it comes to acrylic solutions, we are unrivaled in quality. When using acrylic, the nail is sculpted from powder and liquid. Various modifications have been made to acrylic throughout its 40+ years of use in the nail business. Nails can be formed from acrylic on the natural nail or the nail tip. Since it may be filled in, artificial nails can last up to three weeks. Typically, we can get by with only one fresh set and three fills before having to soak and redo a customer's hair. To complement our acrylic procedures, Bnails provides complimentary cuticle trimming. With this trick, you can expect your manicure to look great and last an extra week. For acrylic nails, we offer a 2-week warranty.
04. SHELLAC/GEL NAIL
We provide gel lacquer treatments to prepare you for a night out or give your nails a lasting boost. Shellac has been in the market for about eight years now. Shellac is similar to ordinary nail paint in that it is lightweight and does not harm the nail bed. Shellac is very flimsy and may only be used on natural nails. Nail extensions using acrylic or poly gel and shellac are available. Shellac manicures and pedicures can last up to four weeks on the toes and two weeks on the fingers. The quality of our shellac treatment is guaranteed for two weeks. Each shellac service will come with a hand massage at the end of the service so you can enjoy your new nails while experiencing the ultimate relaxation.
05. DIP NAIL
Come into Bnails and try out our one-of-a-kind Dip Nail service. After you're done, you'll have a wide range of choices and a polished set of nails. As a combination of acrylic and hard gel, dip nails are a unique innovation in the nail care industry. Now that the product has been available for four years, everyone is switching to dip nails since they are so enduring and fashionable. Since dip nail often contains vitamin(s) and calcium, it benefits nail health and growth. At Bnails, all dip nail services will also come with a cuticle trimming to help your dip nail last longer. The free manicure includes a nail trim to make your new fingernails look their best (other businesses may charge for this add-on, but we do not). All of our dip nail procedures come with a 2-week warranty.
06. POLYGEL NAIL
BNails uses premium ingredients to create Polygel/Bnails healthy gel nails for hands and feet. (Bnails' beneficial gel). Polygel contains the most fantastic nail products. LED hard gel is used with liquid and powder acrylic. Polygel can be used to overlay or sculpt natural nails. Polygel/Bnails Healthy gel, one of our exclusive products, was launched in January 2018. Many adore acrylic nails' strength, but they harm the nail bed and smell bad. Dip Nail and Shellac are healthier for natural nails than artificial but weaker. We combined them for these reasons. Bnails Healthy Gel. It is a robust, long-lasting nail enhancement without unpleasant odors or bed damage. Bnails Healthy gel lasts three weeks without lifting. Bnails healthy gel can lengthen nails on ordinary nails or tips.
07. MANICURE
One of the most common treatments for nail care is the manicure, which continues to be quite popular. Bnails provides various manicure packages to produce beautifully adorned nails, and the salon maintains a traditional aesthetic.
08. ADD ON SERVICES
Bnails come in many patterns and adornments, including glitter and rhinestones. You may choose any design on Google or Pinterest, and our fantastic artist will recreate it exactly or better. Getting the nail out will be a simple and inexpensive process that we can describe in detail before we even start.
FINAL THOUGHTS
Note that the costs above will vary substantially based on your unique nail treatments, the salon's location, and quality. Well, what do you think? Have you considered getting a manicure now that you know how much it will cost in 2023? Contact us if that's the case. At Bnails, we understand how hectic your life is. We wanted to create something simpler and more convenient for you, so you don't have to check the time and see if we're open before calling or coming in to book an appointment. All you have to do is log in and schedule your next appointment at one of our favorite locations!!!