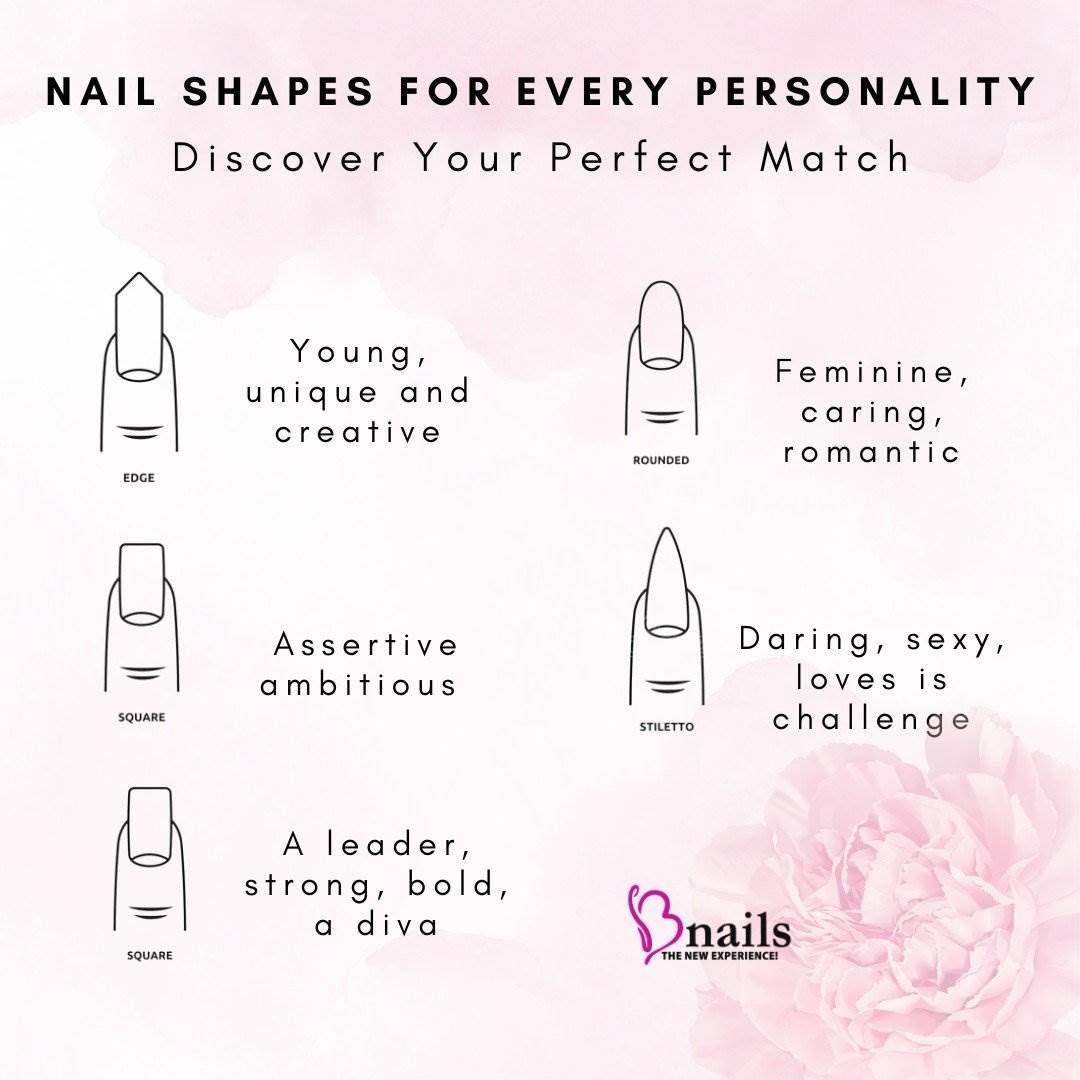 Nail Shapes for Every Personality: Find Your Perfect Match at Bnails
admin
Posted July 22 2023
Welcome to the exciting world of nail shapes and the artistry they bring to our fingertips! Our nails serve as a beautiful canvas for self-expression, allowing us to showcase our individuality and personality in a creative way. At Bnails, we believe that the right nail shape can truly enhance your unique traits and empower you to embrace your inner confidence. So, let's embark on a delightful journey of discovery as we explore the diverse world of nail shapes and find your perfect match!
The Enchanting Allure of Stiletto Nails
Are you ready to make a bold statement and turn heads wherever you go? Look no further than the mesmerizing charm of stiletto nails! Characterized by their sharp, pointed tips, stiletto nails exude confidence and sexiness. They're perfect for those who love taking risks, stepping out of their comfort zone, and embracing their daring side. At Bnails, our expert nail artists know just how to create the perfect stiletto shape that complements your fierce personality and adds that extra touch of allure to your overall look.
Embrace Femininity with Round Nails
If you adore everything feminine, delicate, and romantic, then round nails are the epitome of elegance. Known for their soft and gentle curvature, round nails exude a timeless sophistication that never goes out of style. At Bnails, we believe that round nails are a symbol of care and tenderness. Our skilled nail technicians can transform your nails into a beautiful round shape that perfectly reflects your nurturing and romantic nature.
The Power of Squoval Nails
Are you a go-getter, assertive, and ambitious in all that you do? Squoval nails might be your ultimate match! As the name suggests, squoval nails combine the characteristics of square and oval shapes, creating a perfect balance between strength and femininity. At Bnails, we appreciate the importance of striking that fine balance, and our talented artists can create the ideal squoval nails that resonate with your assertive and ambitious spirit.
Embody Leadership with Square Nails
Square nails are a classic choice for those who exude leadership qualities and a bold, confident aura. With straight edges and sharp corners, square nails showcase strength and authority. If you are a diva at heart and love being in control of your destiny, then square nails are the way to go! Our skilled nail artists at Bnails know precisely how to shape your nails to bring out that commanding and charismatic presence.
Your journey to find the perfect nail shape that complements your unique personality and style begins at Bnails! Our team of passionate nail artists is dedicated to creating stunning nail designs that speak to your soul and enhance your natural beauty. Whether you're looking to embrace your daring side with stiletto nails, exude elegance with round nails, strike a balance with squoval nails, or showcase leadership with square nails – Bnails has got you covered!
So, why wait? Book an appointment now at Bnails and let us unlock the transformative power of nail shapes that truly resonate with who you are. Step into a world of artistic expression and embrace your individuality with our expert nail services!
🎯 Book Now: https://bnails.com/appointment 📞 Call Us: 844.218.5859
Let your nails reflect the radiant essence of your personality – only at Bnails! 💅