Situated at 12811 Indiana Ave, Suite 400, Lubbock, TX 79423, Bnails Lubbock stands as a testament to excellence and dedication in the world of nail artistry. Not just any nail salon, Bnails Lubbock is the fourth gem in the illustrious Bnails' Texas chain, shining brilliantly amidst its peers.
Our team at Bnails Lubbock isn't just trained; they're masters in their craft. With an uncanny ability to bring to life even the most intricate designs that customers can envision, our artists redefine the boundaries of creativity and precision.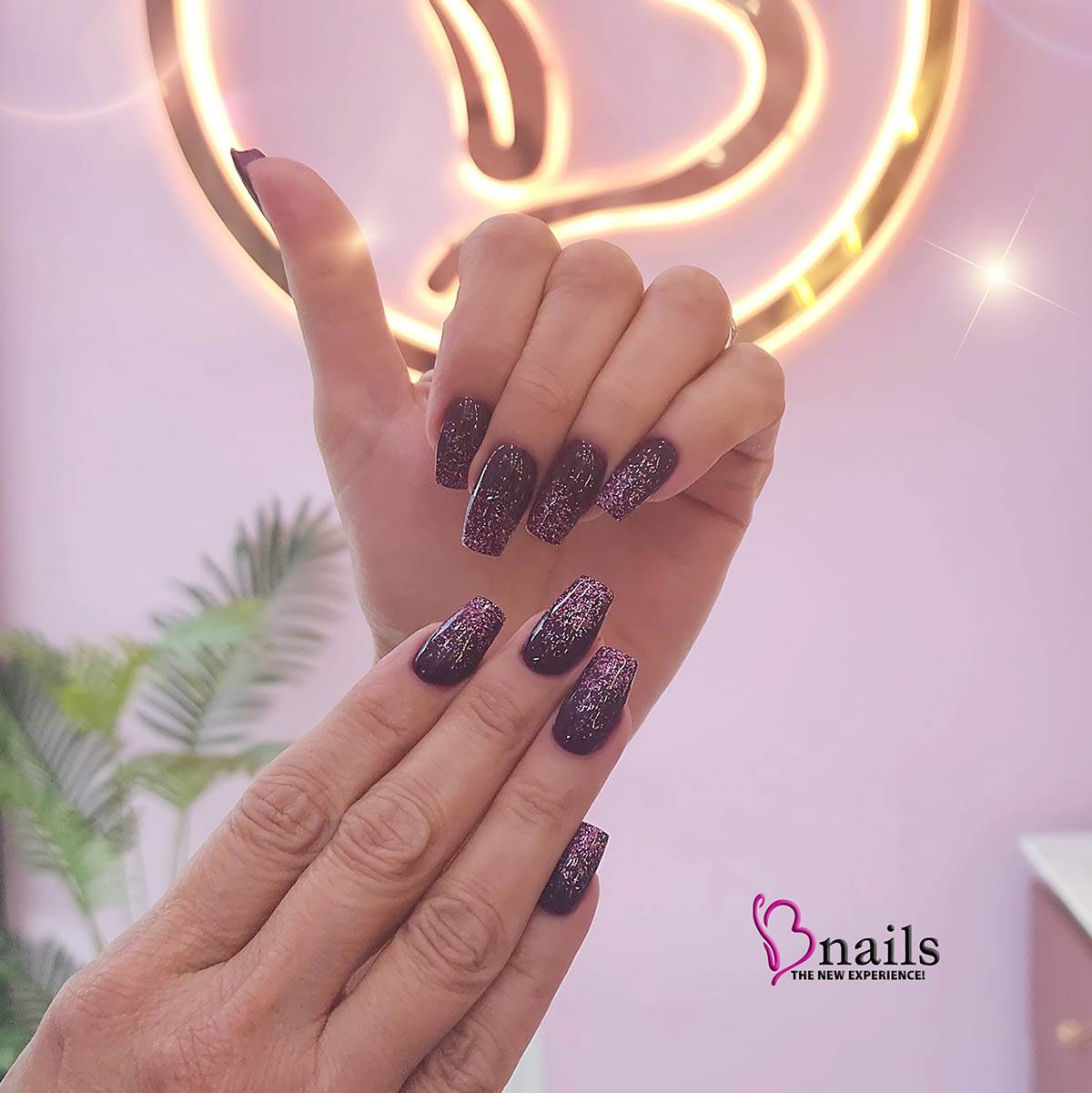 At Bnails, it's never just about the nails; it's about the experience. A customer's journey with us isn't a static one; it's continually refined and enhanced. By consistently updating our customer service practices, we strive to ensure that each visit is better than the last, offering an unparalleled nail salon experience.
Understanding the value of trust, we proudly stand behind our work with a two-week guarantee on most of our services. Whether it's a classic manicure or an elaborate nail design, our clients can rest assured knowing their nails are treated with the utmost care and professionalism.
For those eager to secure their spot, we've made it effortlessly simple. Online booking is available 24/7 at Bnails.com/book-appointment. Prefer to drop by spontaneously? We welcome both walk-ins and appointments. If you wish to speak directly to our team or have any queries, feel free to call us at 806.205.5566.
Join us at Bnails Lubbock, where we're not just elevating nail artistry; we're revolutionizing the entire customer experience. Welcome to the next level. Welcome to Bnails Lubbock.
Crucial Considerations for Selecting a Nail Salon
Now that nail salons are popping up nationwide, you should treat yourself to a manicure. Given that this is the first time these Nail salons Lubbock have opened in months, expect a high volume of customers. It would be best to go into your appointment or visit with a clear idea of your desired nail services. Remember that costs can vary widely between different nail salons. The top nail spa has compiled helpful data and pointers for those interested in nail polish services. A comprehensive guide follows to getting ready for your desired Nail salon Lubbock experience.
· Colors
If you know what color you want before you go, you can skip the guesswork at the Nail salon Lubbock. When you choose a nail service, the salon will offer a selection of colors that complement that treatment. No matter what service you go with, they should be able to accommodate your desire for a particular shade.
· Maintenance Manicures
Get regular manicures as a treat to help strengthen your nails. Manicures typically feature pampering extras like a hand massage and moisturizing lotion. You could experiment with different nail polish colors and designs at each visit of Lubbock nail salons until you find what you like best.
· Artificial Nail Types
Acrylic nails and gel nail tips are the most well-liked artificial nails. Acrylics, in contrast, harden into a rigid material that covers your natural nails. They are more challenging to remove and can cause nail damage if attempted. Gel nails, also called gel tips, are artificial nails made from a pliable gel painted over natural nails. The removal process is simpler and less harmful than with acrylic nails.
· Nail Art in a French Style
A French manicure from Best nail salon Lubbock is a timeless beauty treatment that complements any ensemble. This classy nail design works with any outfit, making it your best bet for a black-tie affair. The final result is a gloss over your natural nail color, with white paint applied to the tips. You can jazz up this classic look by decorating the area around your natural nails with nail art, diamonds, or even tiny pearls.
· Forms of Nails
When getting a manicure, you can specify the shape you want for your nails. If you like short fingernails and nail beds narrow, go with the oval shape. The square shape is ideal for those with wider nail beds because it allows for a neat French manicure. This square style allows for either pointed or rounded apexes. The square-oval is an ideal hybrid of the square and the oval.
You occasionally deserve a day of relaxation and pampering. One of the best ways to unwind and concentrate on oneself is to get your nails done. For more tips on how to look your best every day or for a special occasion, read through one of the Best nail salons in Lubbock Bnails Salon's content. Those are some beauty suggestions to help you unwind and relish the event.
The Importance of Taking Care of Your Nails in Nail Salon Lubbock
Are you unable to afford to visit a nail salon in Lubbock TX, or have you always wanted to but need more time? Everyone can bet you like honing your manicure as much as they do. The simple act of improving the appearance of your nails—by painting them a new color or getting a mani/pedi—always lifts your spirits. If you still need convincing, consider the following compelling arguments for why you should do your nails immediately from a nail salon Lubbock Texas.
· You can unwind and relieve stress by doing this.
Painting one's nails from one of the best nail salons Lubbock Texas is an easy and inexpensive way to unwind and calm down. It's a relaxing diversion from studying or working and can even be entertaining. Every color of nail polish and countless nail art styles are available. If you're new to nail art, try different colors and styles to find your style. Online videos show how to draw specific patterns. Starting with a line or polka dots can help you get creative with nail art, which can be intimidating. You can try more complicated patterns now that you know the basics.
· A healthy hand starts with clean nails.
You are meticulous about your appearance and treat yourself respectfully regardless of gender. This includes the aesthetic and hygienic maintenance of healthy nail growth. Maintaining good nail hygiene with the help of a nail salon Lubbock TX, is crucial to preventing infections and other issues related to the hands and nails.
· It is timeless and fashionable.
Nail art has quickly become a mainstream method of self-expression. You can express your individuality by designing unique nail art to complement any ensemble, event, or state of mind. If you still want to try freehand nail painting from nail salons in Lubbock Texas, but need more assurance, you can easily accomplish plenty of designs by employing methods like nail stamping. If you've never done nail art, you can try it with the many nail plates and polishes. No matter your nail art supply experience, you can create amazing manicures.
· It aids in making a favorable first impression.
Your nails are one of the first things people will notice about your appearance. A study found that people perceived those with well-kept nails as more professional and reliable with the help of nail salons in Lubbock TX. If you are heading to a date or an important meeting, take the time to pamper your nails with the prettiest designs you believe would be appropriate for the event.
If money is tight for this reward, try living simply for a while; you'll have plenty even then. One day at nail salons Lubbock TX, like Bnails Salon, is a treat you won't regret, even if it's just a one-time indulgence.
Booking
We understand how busy you are with life. We wanted to create something that is easier and more convenience for you, so you don't have to check the time and make sure we open to call or come in to make an appointment. All you have to do is login in and book your next appointment at one of our location you love!!!
Book Your Appointment