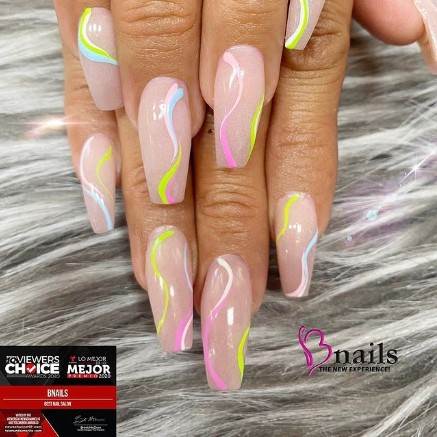 WHAT TO EXPECT WHEN YOU VISIT A NAIL SALON LUBBOCK TEXAS
admin
Posted October 31 2022
When you visit your neighbourhood nail salon, The aestheticians at your local nail salon may demonstrate a wide range of nail art styles for you to try out on your own nails. Alternatively, you might choose to have a wide range of designs on your fingernails.
First, the nail technician will remove any old polish from your nails before tidying them up by cutting, filing, and shaping them. A nail technician would rather you not have very short nails. After all, you need some breathing area to display your manicured masterpieces. The following step is for them to apply a clear base coat to your nails to shield them from harm, prolong the life of the manicure, and establish a solid foundation for the subsequent color or design. The fun part occurs when your base is completely dry.
What You Should Know Before Your First Visit to a Nail Salon
A trip to the nail salon for a manicure and pedicure is a great way to unwind. Following these unspoken guidelines can help you get the most out of your visit to nail salons in Lubbock, TX. If you follow these guidelines, your time at the manicure salon will be enjoyable for you and the technician. However, since these norms are implicit, many individuals violate them without realizing it.
A first visit to the nail salon Lubbock, TX, might be intimidating, so here are some things to keep in mind:
Don't Be Late: If you're running late to the manicure salon, the technician may not have time to provide the precise service you need. Instead, we may have to speed through it. And if you get there early, you may choose your nail polish and design without stress.
Let There Be No Confusion: You don't want to leave the manicure salon disappointed with your nails and angry with the technician. Be specific about your goals from the start. Explain how you want your nails painted, including the color, shape, length, and size. Mistakes happen when clients do not give detailed instructions to their nail technicians.
Make Sure Everything Is Deep Cleaned: It's your responsibility to ensure that the nail salon has clean instruments for your service. Those who choose to err on caution are free to enquire about it. This is not something to be concerned about. If you have a regular salon you like to go to, be sure to mention that you are very concerned with your own and the salon's sanitary standards.
Do not put fresh nail polish in hot water: There's a good chance you'll want to clean your hands and feet after your session. There's no danger in doing so, although you probably shouldn't soak your newly repaired nails in hot water. Nail polish doesn't dry properly if you wash your fingers in hot water. You can run your hands under water as soon as the nail paint has dried, but only if the water is cold.
Keep your cell phone usage to a minimum: To avoid disturbing those around you, it is recommended that you solely utilize the phone's vibration feature instead of its ringer. As an added precaution, postpone the call if the topic you intend to discuss can wait until a more convenient time. Other clients at the nail salon might see you rudely if you were to chat on the phone the whole time.
It's important to remember to tip: After a relaxing day at the manicure salon, don't forget to leave a generous tip for the attentive technician who helped you. It's always lovely to receive a gratuity.Make an appointment with Bnails now so we can improve the appearance of your hands and feet in a way that is good for your health.